Christmasworld Frankfurt International Christmas Gifts and Festival Decorations Expo 2020
Exhibition date: January 25 – January 29, 2020

Organizer: Frankfurt International Exhibition Company

Exhibition hall name: Messe Frankfurt International Exhibition Center

Exhibition cycle: once a year

Scope of exhibits:

Christmas/seasonal products – Christmas ornaments and gifts, Christmas lights, Christmas trees and accessories, Christmas tree decorations, gift packaging, gift boxes, cans, etc;

Ornaments for festivals – ribbons/bows, garlands, and all kinds of festival ornaments; Such as Easter, Halloween and religious objects;

Candles and spices – candles, candlesticks, candle accessories, etc;

Floriculture – dried flowers/leaves, dried fruits, various flower vessels, artificial flowers/leaves, basic materials for flower production, etc;

Store and display – display and display equipment in Christmas or festival jewelry stores;

Fireworks products – all kinds of fireworks, firecrackers, etc;

Carnival commodities – hats and wigs, carnival costumes, masks, cosmetics, fabrics, etc;

Banquet and festival commodities – disposable tableware, wrapping paper, colorful shredded paper, dance supplies, etc.

Expo overview: Frankfurt International Christmas Gifts and Festival Decoration Exhibition is a professional international trade fair in the festival decoration industry.     In 2019, the exhibition area of Ambiente was 340000 m2, with 4635 exhibitors from 87 countries and regions (including 3514 overseas exhibitors, accounting for 76%). There were 138000 trade visitors from 138 countries and regions, including 67000 overseas trade visitors, accounting for 46%. Italy, the Netherlands, France, the United States and Switzerland were among the top five overseas visitors. Overseas buyers from the United States, Türkiye, Russia, Brazil and the United Arab Emirates grew strongly.
    Frankfurt International Christmas Gift Fair is highly professional and has a good trade effect, which affects the whole of Europe. Each exhibition can attract exhibitors from more than 60 countries around the world, with nearly 100000 trade visitors. Most of the exhibitors and visitors are satisfied with the exhibition effect. Since its inception, the exhibition has become a European market, especially the German market, where exhibitors can master professional information It is the most important place to understand the current international market trends, sign contracts and develop international markets.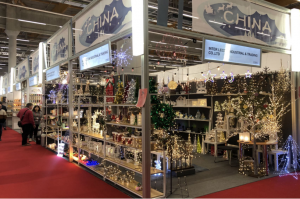 Christmasworld, an international Christmas gift exhibition in Frankfurt, Germany, has once again demonstrated its unparalleled international leading position as a world festival gift and decoration. The positive and optimistic trading atmosphere dominated the atmosphere of the whole audience. The key factor should be the continued strong recovery of the global economy, especially the recovery of the German economy. Christmasworld, an international Christmas gift exhibition in Frankfurt, Germany, has once again achieved remarkable results with its high professionalism and years of accumulated influence. It is the preferred international exhibition for many Chinese festival gifts and decorations manufacturers and trading companies, and has become an important platform for Chinese enterprises to communicate with new and old customers. Our company has also benefited a lot from it and learned a lot.